Line 6:
Line 6:
 

In the US the Jetstream line is available in many different sizes, colors, and varities, so much so that it can be very hard to keep track of. The RT, as the name implies, is always retractable and is available in most office supply stores. It is generally found in blue, red, and black in either 0.7mm (fine) or 1.0mm (bold).

 

In the US the Jetstream line is available in many different sizes, colors, and varities, so much so that it can be very hard to keep track of. The RT, as the name implies, is always retractable and is available in most office supply stores. It is generally found in blue, red, and black in either 0.7mm (fine) or 1.0mm (bold).

 
 
−

The RT is usually sold in [https://www.amazon.com/dp/B002FSZP5A/ref=as_li_ss_til?tag=100010001-20&camp=0&creative=0&linkCode=as4&creativeASIN=B002FSZP5A&adid=0Q73S43N19M0XBTQER65& three-packs] , but it can also be found in [https://www.amazon.com/dp/B002S5382C/ref=as_li_ss_til?tag=100010001-20&camp=0&creative=0&linkCode=as4&creativeASIN=B002S5382C&adid=0AN7Z8FSKN45A8A3NQXJ& multi-color three-packs] , and [https://www.amazon.com/dp/B001HA59VC/ref=as_li_ss_til?tag=100010001-20&camp=0&creative=0&linkCode=as4&creativeASIN=B001HA59VC&adid=0NTMXE0R0Q1DYE18B0X2& 12-packs] . 

+

The RT is usually sold in [://./ three-packs] , but it can also be found in [://./ multi-color three-packs] , and [://./ 12-packs] . 

 
 
 

==Jetstream RT review==

 

==Jetstream RT review==
---
Revision as of 14:47, 9 March 2017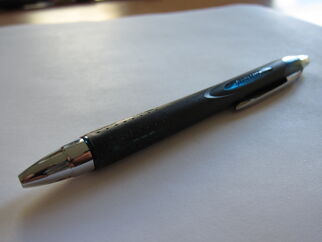 The mainstay of Uniball's popular Jetstream is the Jetstream RT, a retractable pen that comes in many different varieties. It's cheap, popular, and is widely acclaimed as the best pen in the sub-$10 class. 
Jetstream RT basics
In the US the Jetstream line is available in many different sizes, colors, and varities, so much so that it can be very hard to keep track of. The RT, as the name implies, is always retractable and is available in most office supply stores. It is generally found in blue, red, and black in either 0.7mm (fine) or 1.0mm (bold).
The RT is usually sold in three-packs , but it can also be found in multi-color three-packs , and 12-packs . 
Jetstream RT review
The JetStream RT is a very good pen and, as noted above, some people think it's the best in its class. That said, it's not the right pen for everyone. Yes, the Jetstream RT writes smoothly, but it ]has a wide, straight barrel that isn't comfortable for everyone. It's also available in so many shapes and sizes and colors that it can be impossible to find the RT that's right for you. The ink dries quickly and is said to be indelible, forming a secure, unwashable bond with the paper, just like the Uniball 207 . 
All the fun styles and colors are good for a short period of time, but they can get boring. After that it can get a bit tiring, especially as it lacks the comfort level of some of the competition and has a rather bulky appearance. 
Ultimately, the Jetstream RT is a fine pen but it's not for everyone, and when purchasing, trying to tell between the Jetstream RT, Jetstream Sport, Jetstream Alpha, Jetstream rubber body, Jetstream BLX, and other varieties can be rather tedious (though, to be fair, that's not much of an issue in stores in the US, as you'll likely only see the capped and retractable versions).