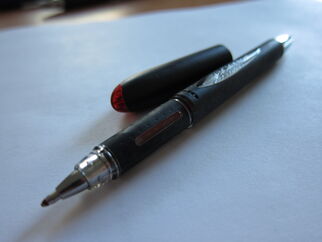 This is the standard model of the Uniball Jetstream pen. Unlike the Jetstream RT, which is retractable, the standard models is capped. Past this difference the two pens are quite similar. 
Rather than being called the "standard Jetstream" or the "capped Jetstream" if you are searching for this pen you'll find it by using the phrase "Jetstream Stick," which simply means it's not the retractable (RT) version. 
Uniball Jetstream information
Uniball Jetstream review
This pen is so common that you might not think about it much, but it is something that could use some improvement. The cap is rather hard to pull off, the ink dries up over time, the pen isn't balanced particularly well, and the faux metal end tip is rather ugly. Even with all those issues with it, the Jetstream isn't at all a bad pen. In fact, the capped Jetstream a good enough pen for office use or day-to-day writing, it's just not as good as some of the competition.
Given the limited difference between a good pen -- like this one -- and a great pen, the Jetstream just doesn't have what it takes to stand up against the Jetstream RT , which is slightly better, or something like the Pilot G-Knock , which is much better. And if you absolutely need a pen with a cap, you should check out the Uniball Jetstream 101.