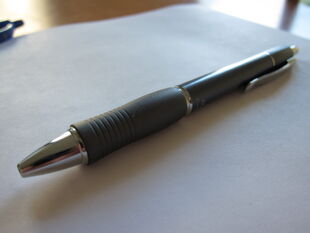 The Pilot G2 Limited isn't actually a limited edition pen, it's just a more expensive version of the Pilot G2 . It uses the same refill as the normal G2, but it has a metal tip, a larger grip, a metal body, and a metal pocket clip. It's heavier and slightly larger than the G2 but features a similar design. 
Note: The Pilot G2 Limited technically retails for $15, above the price limit set by this database. Even so, it's a variant of the G2, so it was included. 
Pilot G2 Limited information
The G2 is usually found in grey (to the right), but is also sold in purple, gold, and blue. All the metal in the G2 Limited adds up to 24.5 grams, where the original G2 weighs just 10.5 grams, less than half as much. The pen is not well balance and, unlike the standard G2, is difficult to spin.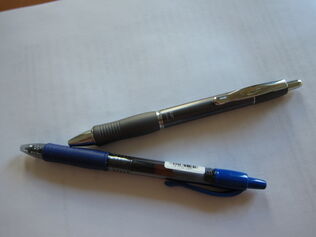 The G2 Limited is only sold as a single pen .
Pilot G2 Limited review
The G2 Limited is an interesting an idea, but it is not worth the money. The pen is attractive (especially in blue), but it's bulky, has an over-inflated look to it, and, at $15, it's not cheap. Additionally, it's not even limited edition so justfiying the extra money on doesn't even make sense in tha respect. 
Perhaps the biggest problem with the G2 Limited is that if you love the G2, you might very well dislike the G2 Limited. The heavy feel makes it feel expensive but it's not fun to use for extended lengths of time, and many of the nice things about the G2 -- like how well it spins and how light it is in your pocket -- are lost when you move to the Limited. 
Save your money, and skip the G2 Limited. There are better pens available for less, and there are much better premium pens availabile. 
Premium Pen Comparison
If you would like to learn more about the premium pens / premier pens / executive pens, then this video should help explain things:
It features all the top Japanese premium pens, including the G2 Limited, Jetstream Alpha, Zarasa Grand, and others. 
note amazon links are monetized