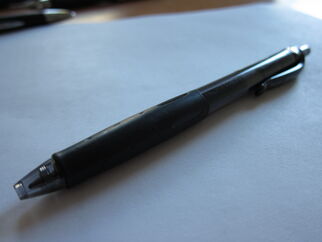 If you like the Pilot G2 but are looking for an alternative then you've got to try the G-Knock (also seen as the GKnock). This pen is similar to the G2 in many ways, but is less common and featuers a different style grip. 
This pen is fairly common in US office supply and stationery stores, under the BeGreen label. This isn't technically a subbrand, but it does tell is that the pen is made from 81.5% recycled content, which is nice to hear. 
Pilot G-Knock basics
The G-Knock is your standard gel office pen, available in blue, black, and red. The most popular size is 0.7mm but 0.5mm is available, and 0.38mm can be found in specialty stores. The G-Knock accepts Pilot G2 refills so you can put in a 1.0mm Bold refill if you really want a smooth writing experience. 
The G-Knock is available in office-friendly 12-packs in blue and black, red, blue, and black three packs , and single-color 3-packs . Two-packs of G-Knocks are available as well. 
Pilot G-Knock review
If you know the G2 then you know the G-Knock, though the ergonomics on the G-Knock are a bit better. They write the same and have a similar click to them. They are both light, smooth, and fun to use. The G2 is the more popular of the two though, with the G-Knock being relatively rare given how good they are and how readily a available they are in some locations. 
The ergonomics are quite good, so this pen is popular to use for extended periods of time. It's lighweight and well-balanced. The clips is strong enough for repeated use and the grip are holds up well. 
(The only problem I've had with this pen is that the rubber of the grip can hold onto oil deposits, releasing them later on, so be careful where you place the pen and how clean your hands are when you use it. This might have been a fluke or maybe it was the grip breaking down prematurely, but it did lead to one unpleasant experience. It could very well have been an isolated incident -- it's never happened to me before or since -- but it ruined my favorite G-Knock.)
G-Knock vs G2 pen comparison
Can't tell these two popular Pilot pens apart? This video will help!