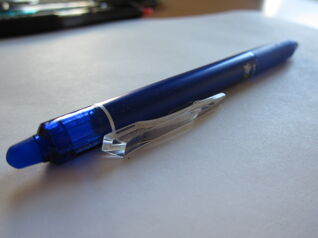 Erasable pens aren't just for kids, they are really quite useful, and if you aren't a pencil person, they can be downright necessary. Even so, erasable pens are relatively uncommon and lots of them are downright bad. The Pilot FriXion erasable pen is the best erasable pen available today. 
Pilot FriXion basics
The Pilot FriXion erasable pen comes in two primary styles, the retractable model and then the Point, which has a cap on it. They are essentially the same pen aside from the retractable design. The FriXion is avilable in blue, black, and red, and then comes in fun colors, like dark blue, light blue, green, and purple. 
The poplar size of this pen is 0.7mm, but it's available in a slim version that is 0.38mm. This pen, the, Pilot FriXion Ball Slim, actually uses a different design then the standard model. There is also the "Pilot FriXion Color-Pencil-Like Erasable Gel" which is a capped model but is different from the "Point."
Pilot FriXion review
Te Pilot FriXion is far from a perfect pen. The ink is too light -- in every color -- so that the blues and blacks aren't as saturated as they should be.