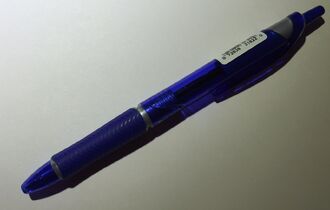 The Pilot Acroball is a "hybrid" gel ink ballpoint pen. It's and affordable, retractable pen that is easy to find online and available in a wide variety of tips size and colors. It's known for its smooth ink but isn't particularly different from other options available.
Pilot Acroball Ballpoint Pen information
The Acroball is most commonly found in red, blue, and black, but it is sold in a huge number of varieties and combinations. It can be found in green, orange, purple, and light blue is purchased in a variety pack. Acroball pens are sold in sets of two, five, or twelve and Acroball refills are sold separately.
The body of the standard Acroball is translucent (as pictured) but the pen is also available in the PureWhite variety, which has a white body.
Another variety is the Acroball Pro, which moves from the standard translucent body to a opaque grey body. The Pro is slightly more expensive, in part due to the use of a metal clip and cone around the tip of the pen.
The final variet of the Acroball is the Acroball 3-way Multipen. It uses a wider body that houses three colors (red, blue, and black) in a single pen.
The Acroball is only available as a retractable pen.
Pilot Acroball Pen Review
The Acroball is an adequate pen but doesn't entirely distinguish itself from the competition. Its high points are:
Affordable price.
Smooth ink, especially in the 0.7mm and 1.0mm varieties.
Wide variety of colors.
A textured, contoured grip that is quite comfortable.
The main reason to use this pen is for the excellent grip, which features a cross-hatch patterns that feels great in the hand and offers an ideal level of grip without feeling sticky.
The Acroball writes well, and because it's a ballpoint it lasts for a long time, even in the 1.0mm size. The "hybrid" gel ink is said to be more water-resistant and quicker to dry than standard ballpoint inks. It does dry particularly quickly, which is helpful for left-handed writers.
Acroball Alternatives
The main competition to the Acroball is the much more popular Uniball Jetstream, which features a much more modern, much more colorful set of design options. The Jetstream RT is a popular alternative as well.