The Sandman Will Keep You Awake - The Loop
Play Sound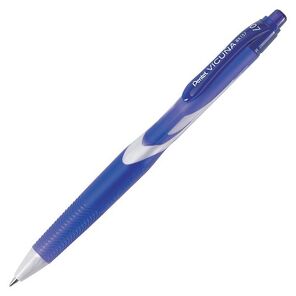 The Pentel Vicuna is a surprisingly good pen in a rather boring body. It's not seen very often in America, but it's worth getting your hands on if you are looking for an affordable, high-quality 0.7mm pen that is incredibly understated.
Pentel Vicuna Basics
The Vicuna is a retractable ballpoint pen from Pentel. It is available in 0.5mm and 0.7mm sizes and is sold in a wide variety of colors, including vibrant shades of pink, green, red, purple, and blue. Interestingly, it also sells in mismatched colors: you can get a pink body with black ink or even a blue body with black ink. 
Single pens are sold through Jet Pens  but if you want more than that you can get a Vicuna 12-pack in black or blue (0.7mm) . An assorted color 8-pack is available as well. 
Pilot Vicuna refills are available as well, but due to their rarity they may be overpriced compared to just buying the pens. 
Pentel Vicuna Review
The Vicuna is a boring-looking office pen... except when it's not. The pen will using ship in a dull grey but it can also come in some really bright colors, so don't pre-judge it.
The body on the Vinuca is bland and low rent. It body, tip, and clip are entirely plastic, with no metal parts. The grip is a hard rubber, that at first seems just like more plastic, but there is some tackiness there. Almost like the material you'd find one some kind of pool equipment or the grip of hammer. Anyway, it's not very comfortable and it's not very handsome.
And then there is the ink. Somehow Pentel decided to put some incredibly smooth ink in this pen! The 0.7mm variety is shockingly smooth, and it writes like a pen that cost many times more -- almost like you hacked it ! The end result is one of the smoothest and best writing ballpoints I've ever used, for an incredibly low price.
Verdict: This is a miracle ink cartridge in a rather poor body. I hate how the pen looks on my desk, but then I'm shocked every time I write with it. I'm currently stocking up on them and looking for other pen bodies to put the ink into.  
Pentel Vicuna Alternatives
The best alternative to the Vicuna is the Jetstream RT , assuming that you'd want to stick with a ballpoint pen. If you are flexible then you should investigate the Pilot G2 0.7mm gel pen .